Magician London
Available UK & Worldwide.
Recently seen performing LIVE on Channel 4 & BBC 1, Professional Magic Circle Magician Martin John has stunned guests at over two thousand events worldwide as a London Magician, performing both as a mind-blowing Close-up Magician & a highly entertaining Comedy Stage Magician!
Prices to Hire Martin John as a Magician in London:
To hire Martin John to amaze & entertain your guests at your upcoming event in London, prices start from £395.
To request a free, no obligation quote for your event, contact Martin now by phone, text or email:
Close-up Magic or Stage Magic?
Whether you are arranging your entertainment for a London Wedding, Party, Corporate or any other Event, Martin can either perform Close-up, on Stage or a Mixture of both:
With masses of experience Martin has mastered the art of witty, comedy Close-up Magic bringing laughter and amazement to guests as a Magician at London events & worldwide!
Which Types of Magic Tricks are included in Martin's Sets?
Martin will approach each group at your event and perform unbelievable professional sleight of hand magic tricks, including incredible card routines - signed cards appear in Martin's pockets, impossibly into his wallet and even magically change in the spectators hands! Martin somehow makes a Coin fall...'upwards', ropes impossibly change sizes, bank notes change value and sponge rabbits multiply! (A funny but truly amazing routine & a favourite for women & children).
Martin's signature trick involves his wallet and business card that both set on fire...yet somehow remain in perfect condition...with no burns! (A perfectly safe routine performed at over 2 thousand events!).
Martin's Fire Magic is of course optional and he can perform without fire upon request or if prohibited by the venue.
Martin is fully Public Liability Insured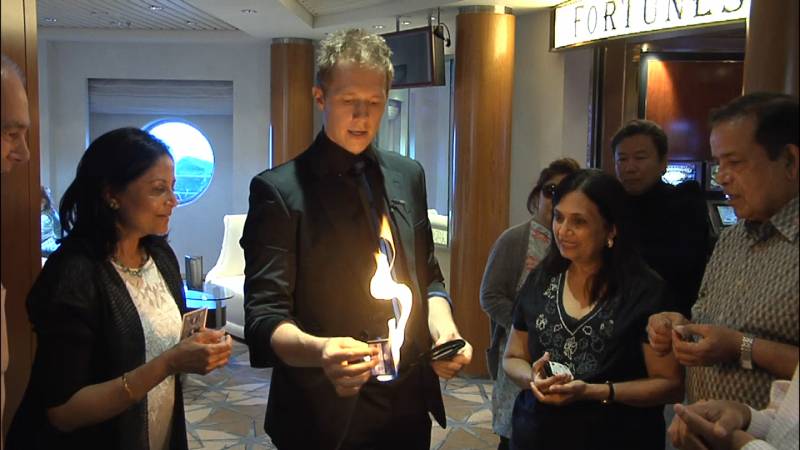 How long does Martin spend per Group / Table?
Depending on the amount of people at the event, Martin's average time spent performing to each group is approximately 5-7 minutes. This however is completely flexible. If you have a large event with hundreds of people, Martin can perform shorter but equally as effective routines. For small events such as dinner parties, Martin can perform up to two different 10 minute routines to the same table, basically anything can be covered. If the event has hundreds of people attending, Martin can either recommend another Professional London Close-up Magician to work alongside him, or can also offer his Comedy Stage Magic Act which he has performed to audiences up to 4000!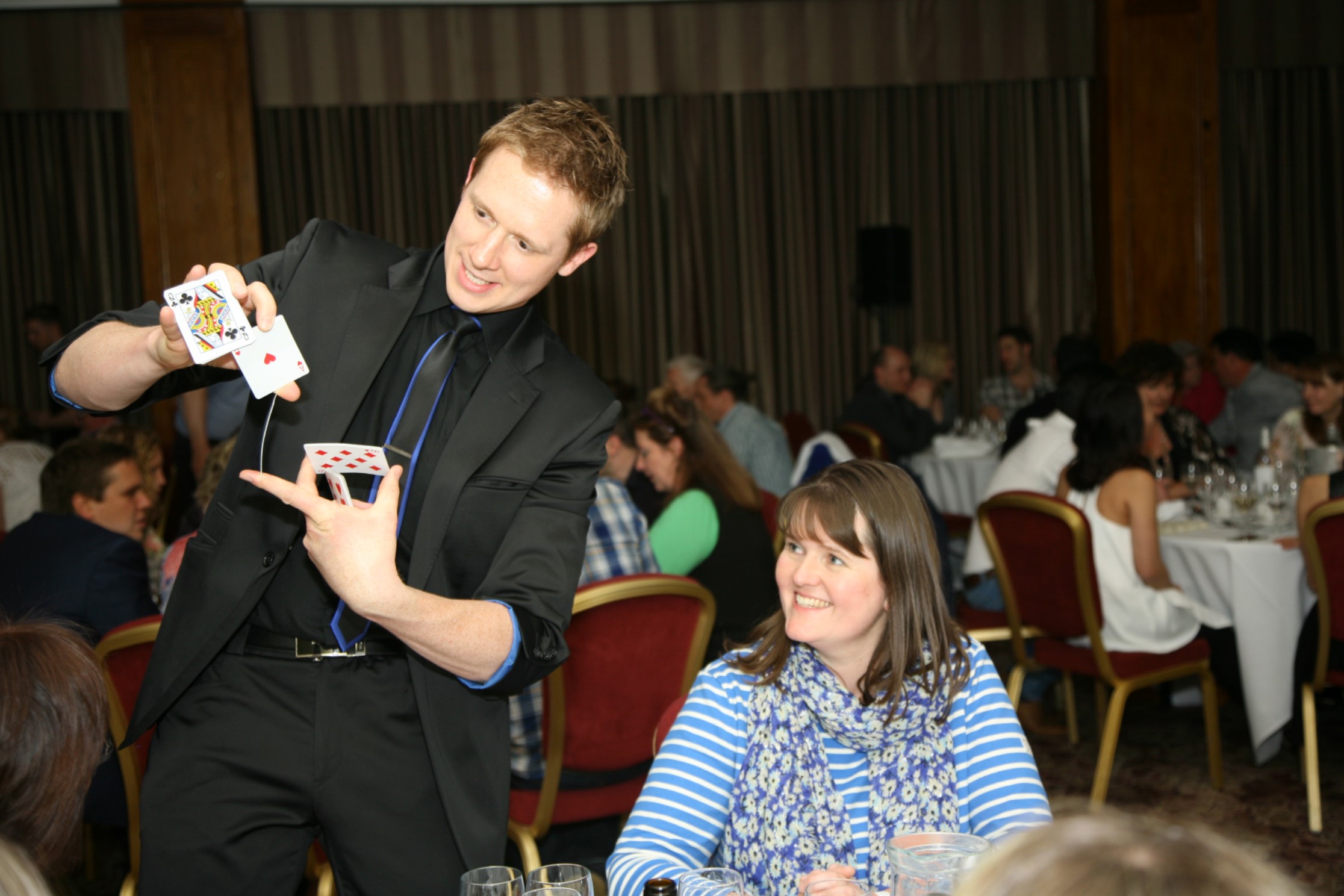 Which Event Types is Close-up Magic Most Suited For?
Usually requested where the client is seeking a Magician to mingle amongst standing guests and guests sitting at tables, performing up-close e.g. a Drinks Reception, Birthday Parties, Lunches / Dinners in between courses, Private Parties, Corporate Events, Cocktail Receptions, Christenings, Product Launches, Trade Shows, Christmas Party Events, Bar Mitzvahs, Gala Dinners, Jewish Weddings, After Dinner Entertainment, New Years Eve Parties....the list goes on! Typical hire time is 1-2 hours, however Martin can perform more on request.
Prices start from £395 to hire Martin John to amaze & entertain your guests at your upcoming event in London.
To request a free, no obligation quote for your event requirements, contact Martin now by phone, text or email:
Stage / Cabaret Magician Hire
Having performed his comedy stage magic act to small audiences of 50, large cruise ship theatres of 1500 & to a corporate event of over 4000 people in India...whatever your requirements Martin can work with you every step of the way for your London event or worldwide!
What can you expect to see in the show?
After watching the sample video will have a good idea! Martin will spellbound you with his visual magic productions…parasols appear from thin air, silks turn into canes and a metal table will seamlessly levitate around the room and over the heads of the audience! Witness the outcome of a trick that 'apparently' needs no rehearsal, followed by a 4 year in the making routine inspired by his great grandfather! With a unique talent to combine magic with comedy, you are guaranteed a fun packed night of entertainment.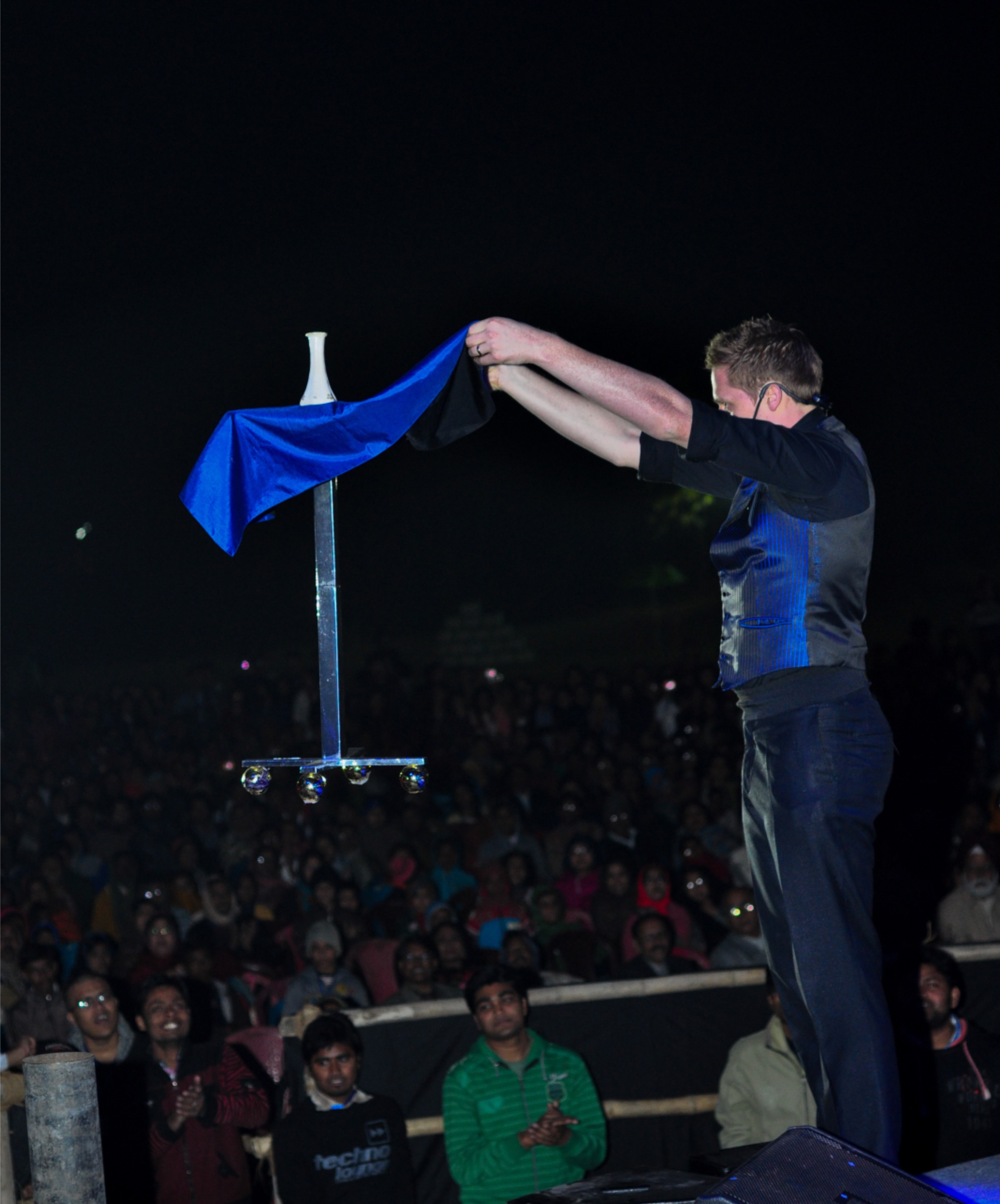 Which Event Types is Stage Magic Most Suited For?
This is more suited when you have a group of guests seated & ready to watch & interact with a 'show' on stage (or in a designated area where there is space). Stage Magic or Cabaret Magic is often requested for London Award Ceremonies, Weddings, Corporate Events, Hotel Events, Christmas Party Entertainment, Bar Mitzvah's, Charity Fund Raisers & many more different event types.
Contact Martin now to enquire for your upcoming event on 07564 032857 ...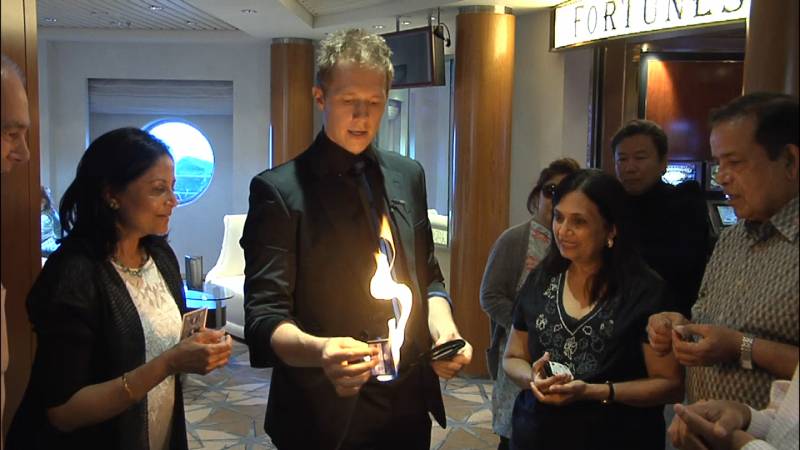 Where has Martin Performed?
Martin has performed at over two thousand events in the UK & Worldwide including literally hundreds in London itself...lots of driving & London Underground Tubes!! Whether your event is being held near the Tower of London, Westminster, London Bridge, The City of London, West, East, North or South London...Martin travels across all the boroughs!
Before performing Magic on the London circuit, Martin was a resident Magician at a Venue in Spain for 5 years, followed by headlined over 100 Cruise Ship Theatres! Previous fantastic Venues & Hotels in London where Martin has performed that may be of interest for your future events include some of the following: