"Awesome show! A perfect mix of visual magic & comedy.
You've got my vote!"
Cruise director – Royal Caribbean Cruises

Watch the video below to see Martin John performing as a Corporate Stage / Cabaret Magician:

Corporate Stage / Cabaret Magic
For your upcoming corporate event, Martin John provides a slick, entertaining & visual comedy magic show like no other! Martin has performed literally hundreds of shows worldwide as a professional Comedy Stage Magician.  
Now based in London, Martin travels to perform at corporate and other events all over the UK & worldwide. Having performed his comedy stage magic act to small audiences of 50, large cruise ship theatres of 1500 & recently to a corporate event of over 4000 people in India, whatever your requirements Martin can work with you every step of the way.
What can you expect to see in the show?  After watching the video above you will have a good idea!  Martin will spellbound you with his visual magic productions…parasols appear from thin air, silks turn into canes and a metal table will seamlessly levitate around the room and over the heads of the audience!  Witness the outcome of a trick that 'apparently' needs no rehearsal, followed by a 4 year in the making routine inspired by his great grandfather!  With a unique talent to combine magic with comedy, you are guaranteed a fun packed night of entertainment.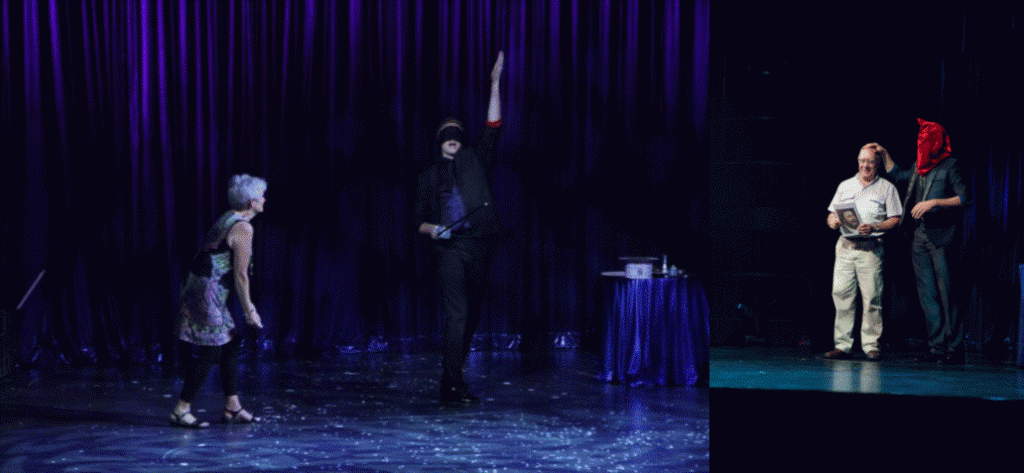 Audience Participation & how to include your CEO / Celebrity or Event organiser!
Audience participation plays a massive part in Martin's show.  Having members of the audience joining in with routines always adds a huge impact at corporate events.  A spectators mind is attempted to be read…ridiculously! Finding a lady's selected card doesn't quite go to plan and an audience member is made into an 'Instant Magician!' getting the chance to perform in front of the entire audience…particularly good for the CEO, a celebrity guest or the event organiser.
"Martin came over to Switzerland to perform at my son's Bar Mitzvah.
Thank you for a great show that my son will never forget!"
Aianna Anuskja – Private Booker
Experience & Previous Clients
Martin began his career and still performs to date as a Professional Close-up Magician.  At the age of 21 he became the resident magician at the prestigious 2000 seater Benidorm Palace for five years performing close-up magic on spotlight, table to table in front of audiences of over 1000 nightly!  Recognising his talent, the Benidorm Palace offered Martin a spot on the stage, which he accepted by developing and performing a double-act dove and parrot magic act, followed by flying to Las Vegas in 2006 to purchase a Lear Jet Aeroplane to make magically appear on the stage, now known as the World's largest stage appearance! Gaining a large amount of experience in visual stage magic, Martin decided it was time to develop two full shows coupling visual magic with comedy, which proved a huge success. At the age of 25 he was approached by various cruise lines, where he baffled and brought laughter to audiences perfoming his Close-up & Comedy Stage Magic shows for a further 5 years!
At 30 years old, Martin is now based in London performing at corporate events weddings & parties around the country.
Here are just a few of Martin's previous clients:
VIVA TV
Canal 5 TV
5 Years Resident Magician at the 2000 seater Benidorm Palace, Spain
Winchester House, London
5 Star Coworth Park hotel, Berkshire
Celebrity Cruises
Royal Caribbean Cruises
Seabourn 6 Star Luxury Yachts
Rocroft Cancer Research
TLH Leisure Resort, UK
Aldershot Military Stadium
Azamara Cruise Line
Holland America Cruise Line
Oceania Cruises
Regent Seven Seas Cruises
P&O Cruises
Saga Cruises
Fred Olsen Cruise Line
Princess Cruises
What event types is Stage Magic suitable for?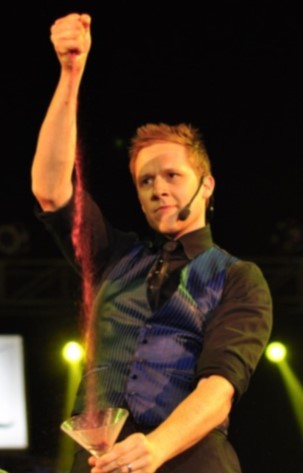 All Corporate Event types
Hotel Evening Entertainment
Wedding Evening Receptions
Product Launches
Trade Shows
Christmas Party Events
Bar Mitzvah
Bat Mitzvah
Gala Dinners
Jewish Weddings
Martin is also fully Public Liability Insured
If you would like to hire a world class Comedy Stage Magician with added charisma and finesse for your upcoming corporate event,
give Martin a call now on 07564 032 857 for a free quote, or click here to contact via email, Facebook or Twitter.
Martin John will take care of your entertainment.