Contact Now: 07564 032 857 or send an email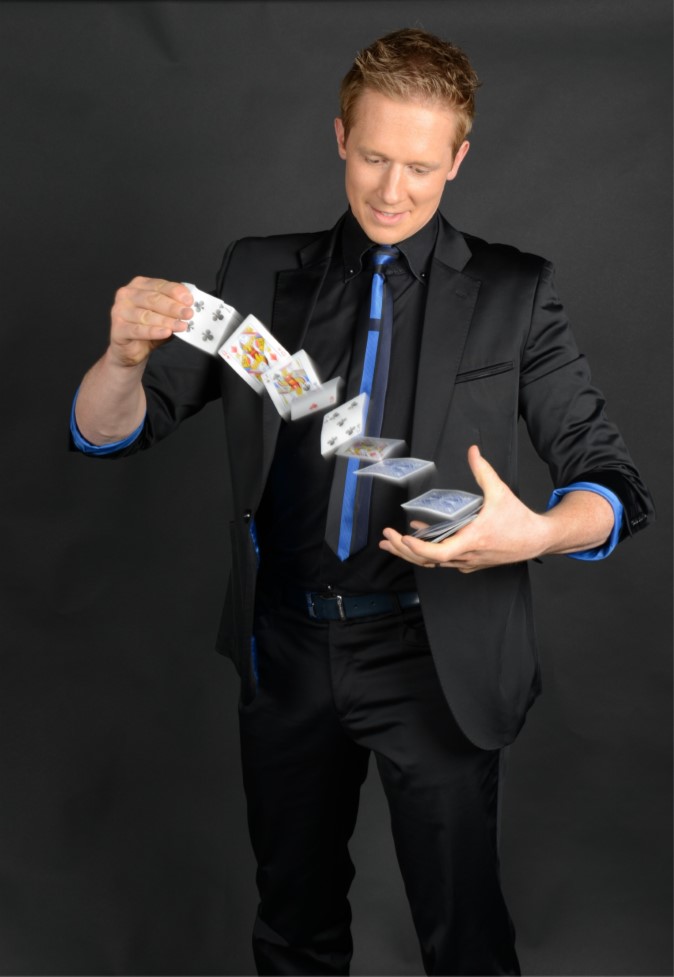 If you are looking for a Close-up Magician to perform at your Christmas /Xmas party or other event this year in Hampshire (or anywhere in the UK) Martin John is the perfect choice!  Over the last 12 years Martin has performed over 2000 shows in the UK, Spain and over 100 of the World's most prestigious cruise ships…so you are in safe hands!
Now based in London, Martin performs his Close-up / Table Magic at events all over the UK and still travels to perform worldwide.
What will a Christmas / Xmas Party Magician do exactly?
Martin will approach each group or table and perform magic with cards, coins, ropes, sponge balls, even borrowed and everyday objects! Signed cards appear in Martin's pockets, impossibly into his wallet and even magically change in the spectators hands.  Coins fall UPWARDS, sponge rabbits have a mind of their own and borrowed notes change in value.  The highlight of the show is Martin's signature routine, involving a pen, a note…and a LEMON!
With such extensive performing experience Martin has mastered the art of witty, comedic Close-up Magic!
How many hours will Martin perform?
As Martin freely walks around performing from table to table or group to group, close-up magic can be performed for as long or as little as required.  1-3 hours are normally requested depending on the amount of guests attending the Christmas/Xmas party or other event.  Martin's average routine lasts between 5 & 7 minutes per group, therefore in one hour approximately 10 groups/tables can be performed to.  Close-up magic is therefore suitable for your Christmas/Xmas party if you have up to approximately 30 tables/groups, however if you have more than this Martin can either perform shorter at each table or can also recommend a second professional Magician to accompany him.  Another option would be to consider Martin's Comedy Cabaret show.  Martin has performed his comedy cabaret act to events holding over 3000 people and as little as 10!  Therefore whatever your needs, Martin can help you cater for all your entertainment needs in Hampshire or in fact any area of the UK (and abroad!) as a close-up table/group hopping magician or comedy cabaret magician.
Does it matter where my Christmas/Xmas is being held or how loud the music is?!
Close-up magic is so versatile and visual that whether your event is inside, outside, quiet or loud with music, your guests will still appreciate the miracles that appear to be happening right under their noses!
If gasps, smiles & laughter sound appealing for your Christmas/Xmas Party in Hampshire, let Martin John take care of the entertainment for your guests!
Contact Martin now and receive a no obligation quote for your Christmas/Xmas party or any other event in Hampshire & throughout the UK!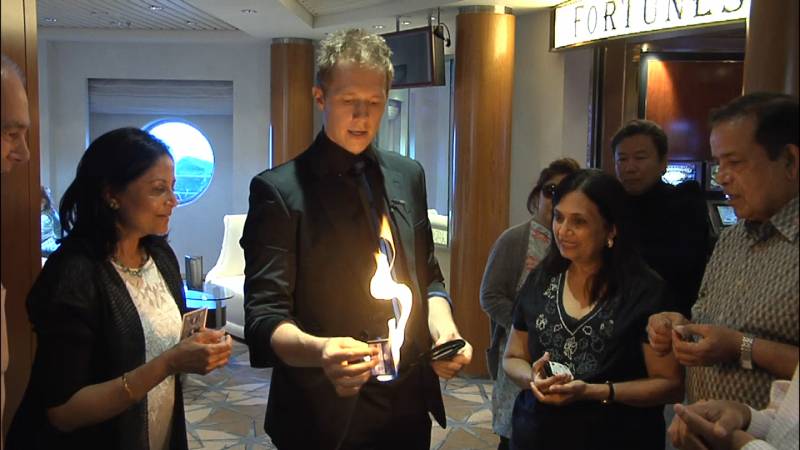 "We normally rotate our acts on a 6-12 month basis…we had Martin for 5 years! Martin performed over one thousand shows with us on spotlight table to table. In this time we were never disappointed and were glad to have him with us.
Martin, the door is always open…come back soon!"
Vicente Climent – Director of Benidorm Palace, Spain
Christmas / Xmas Party Table Magician
Martin also performs as a Table Magician.  Table Magic is often used at Christmas / Xmas Parties as alongside standing guests, Martin will stroll from table to table perform to the dining guests or simply guests seated around tables.
Martin will approach each table performing specially designed routines to be seen by all at any size table.  How does this kind of magic work if the people at the tables are eating?  Don't worry…Martin performs table to table in between courses, creating a fantastic atmosphere at each table.  Will he get in the way of the waiters?!  As the 5 year resident at a dinner & dance show venue performing over two thousand shows, Martin has more than enough experience to work in any situation.  If a waiter approaches the table 'mid-routine', Martin actually includes them in the routine!  You can be assured of a comfortable, professional approach at every table.
Where else has he performed?
Close-up Magician Martin John making a deck of cards vanish!

VIVA TV
Canal 5 TV
5 Years Resident Magician at the 2000 seater Benidorm Palace, Spain
Winchester House, London
5 Star Coworth Park hotel, Berkshire
Celebrity Cruises
Royal Caribbean Cruises
Seabourn 6 Star Luxury Yachts
Rocroft Cancer Research
TLH Leisure Resort, UK
Aldershot Military Stadium
Azamara Cruise Line
Holland America Cruise Line
Oceania Cruises
Regent Seven Seas Cruises
P&O Cruises
Saga Cruises
Fred Olsen Cruise Line
Princess Cruises
At the age of 21, Martin flew to Spain attempting to make a living as a Close-up Magician performing his close-up act in bars for tips.  After two months of performing seven nights per week he had been noticed by the management of the largest variety show venue in Spain, the prestigious 2000 seater Benidorm Palace.  He then became the resident magician for five years performing close-up magic on spotlight, table to table in front of audiences of over 1000 nightly!  Being presented with multi-lingual audiences, Martin learnt his show in Spanish & French. Over the five year period performing 5 nights per week, Martin gained a huge amount of experience as a Close-up Table Magician, performing over 1000 shows!
Recognising his talent, the Benidorm Palace offered Martin a spot on the stage, which he accepted by developing and performing a double-act dove and parrot magic act, followed by flying to Las Vegas in 2006 to purchase a Lear Jet Aeroplane to make magically appear on the stage, now known as the World's largest stage appearance! Gaining a large amount of experience in visual stage magic, Martin decided it was time to develop two full shows coupling visual magic with comedy, which proved a huge success. At the age of 25 he was approached by various cruise lines, where he baffled and brought laughter to audiences perfoming his Close-up & Comedy Stage Magic shows for a further 5 years!
At 30 years old, Martin is now based in London performing at weddings, corporate events & parties around the country.
 "Martin, it has been a tough cruise with many itinerary problems, however after your performances the whole atmosphere on the ship has dramatically changed!
You seriously have saved the day, thank you very much for everything!"
Cruise Director – Seabourn Luxury Cruises
What other types of events is Close-up & Table Magic suitable for?
Wedding Reception
Wedding Breakfast
Birthday Parties
Private Parties
Corporate Events
Cocktail Receptions
Christenings
Product Launches
Trade Shows
Christmas Party Events
Bar Mitzvah
Bat Mitzvah
Gala Dinners
Jewish Weddings
After Dinner Entertainment
Martin is also fully Public Liability Insured
If you would like to hire a world class Close-up & Table Magician with added charisma and finesse for your upcoming Christmas / Xmas Party in Hampshire, give Martin a call now on 07564 032 857 for a free quote, or click here to contact via email, Facebook or Twitter.
Martin John will take care of your entertainment.
Related Articles: